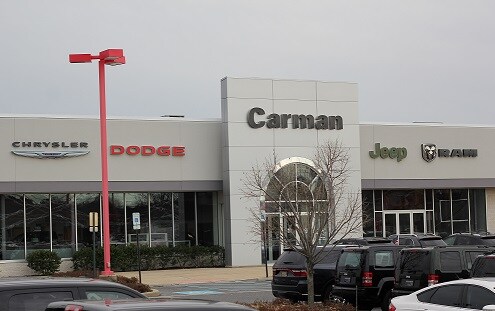 Carmen Giacchino founded Carman Auto Group, opening Carman Lincoln Mercury on July 1st, 1973.  The Carman Auto Group is named after his first name, changing the "e" to an "a".  Vice President and oldest son, Joe, joined his father in 1973 - starting out as a parts clerk in the parts department.  One of Joe's passions has always been the mechanics of the automobile.
After graduating from Temple University with a degree in psychology, son Larry joined the group in 1974 and now oversees the entire operation as President.  Larry's son, Dan, joined the group part time in the summer of 2007 and full time after graduation from University of Delaware in 2008 with a BS in Marketing.
A Leading Dodge, Ram, Chrysler, Jeep Dealer Serving Wilmington DE
Carman Auto Group opened Dodge on July 28th, 2005, and added Chrysler-Jeep in August 2008.  The state-of-the-art building was the first new Chrysler facility in over 50 years providing sales and service for Delaware, Western Maryland, Southern Pennsylvania, and New Jersey.  Competitive pricing and selection is what sets this dealership apart from the competition - offering a wide selection of aftermarket accessories for that custom look.
At our Dodge, Ram, Chrysler Jeep dealer serving Elkton MD, our mission is to provide the best service in terms of quality care to our valued customers at all times - ensuring complete satisfaction and customer loyalty.  In addition, we strive to make the working atmosphere the most pleasant place to be by giving our employees what no one else can.
Our 5-star award winning dealership offers a child playroom, internet café with a wireless hub, and shuttle service to Wilmington and vicinity.  Staffed with experienced sales representatives and top trained technicians, we're here to provide a fun, easy, and valuable automotive shopping and service experience.  Stop by our dealership today at 196 South Dupont Highway to see for yourself!
Areas We Serve
Pennsville: Chrysler | Dodge | Jeep | Ram
Wilmington DE: Chrysler | Dodge | Jeep | Ram
Elkton MD: Chrysler | Dodge | Jeep | Ram